The Rum Diary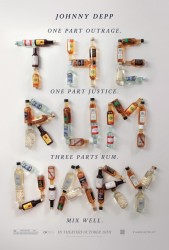 I watched The Rum Diary at one of my local theaters yesterday. It has received mixed if not negative reviews but I've never been one to believe reviews and had to see the movie for myself.
I also read the book by Hunter S. Thompson some years ago. Good book and good movie. Damn the reviewers. The movie I watched was a timeless and realistic story about greed and corruption sprinkled with subtle comedy. Don't be deceived by the subtle description of the comedy. I laughed out loud many times, so loud in fact I wondered what the six other patrons in the theater thought, although I heard them laugh several times as well.
I normally don't buy into the rhetoric of movies influencing children to smoke, take drugs, have sex, etc, but I will say that The Rum Diary had me longing for a tumbler of rum with a cigarette while on a headfull of LCD.
With that being said, don't see this movie if you're looking for another Fear and Loathing in Las Vegas. Keep in mind that the movie is based on an earlier time in the life of Hunter S. Thompson, so plenty of rowdy drunkenness but a lot less psychedelics.
Hopefully this was the first of many wonderful movies to be put out by Depp's new production company, Infinitum Nihil. To end, I say screw the critics and go see The Rum Diary.