Movies: Drive and 50/50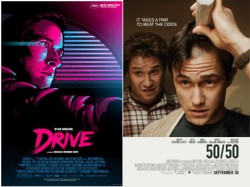 I recently watched two new movies, Drive and 50/50.
Drive has been marketed as an action movie. Although there is definitely action in the movie, it can't really be categorized as what most people think of as a traditional blockbuster type action flick. If you're looking for the next Fast and Furious stay away. Some of the things that set Drive apart: extended still shots with long silences between characters, a strange 80s-like soundtrack, oddly placed non-action slow motion scenes and moments of outrageous violence. While a bit strange at times, Drive is worth the watch. Ryan Gosling's and Carey Mulligan's performances are superb.
50/50, while at times predictable, is a good watch too. It provides a lot of laughs with its plethora of pop culture references and marijuana enhanced chemo snacks while simultaneously hitting more dramatic notes when necessary. I think it is a great reintroduction into comedy for Joseph Gordon-Levitt giving him plenty of comedic moments along side Seth Rogen while also providing him with dramatic scenes which are his bread and butter. Anjelica Huston, Philip Baker Hall and Anna Kendrick fill out the supporting cast nicely.
It's great to see two indie movies get the wide release and publicity the both deserve. Four or five years ago these films would have had a limited release at best. Interestingly the lead actors for these films routinely battle it out for the best actor of my generation on internet message boards and bar conversations. Both Gosling and Gordon-Levitt prove they can hold their own. They also show they have the power to carry a movie to the big screen.
Both Drive and 50/50 are good watches, but neither is a must see. Regardless, they beat ninety-nine percent of the popcorn movies released each Friday. So, if you need a movie to go see this weekend you should check one or both of them out.