Searching for Swimmers–Chapter 29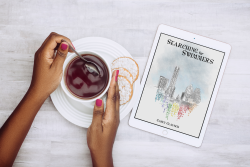 The residences within the two-block radius of the café were numerous, and Jason had spent two hours checking and rechecking the names next to buzzer boxes and showing Sheila's picture to every stranger on the street he encountered. Eventually, he sat defeated on the stoop entrance to a small housing unit. He wondered if Jenny had given him misinformation. After all, she'd never said she'd known that Sheila lived nearby; it was more of a hunch. Jason began reevaluating his strategy when a woman carrying a few bags of groceries approached the stoop. Jason scooted his legs to one side so the woman could pass. One of her bags accidentally smacked him in the head.
            "Oh, I'm so sorry," she said with a laugh.
            "Ah, no problem."
            "You okay?"
            "Not really."
            The woman put her bags down beside the door and walked over to Jason. "So what, you get stood up by someone? Was it Beth? I swear, I love her but she's always leading guys on."
            "No, nothing like that."
            "Oh, so you're waiting for someone?"
            "Something like that, but I'm definitely in the wrong place."
            "Alright, well, good luck." The woman shrugged and walked back to the door.
            "Wait," Jason said. "Sorry I'm just feeling a bit defeated right now."
            "And cryptic, apparently."
            "Yeah, well my mission is a bit of a strange one." Jason laughed at the unintended pun.
            "Well, shit, now I'm intrigued." She looked over at her groceries. "The groceries will keep for five minutes. Why don't you hit me with your story?"
            "Really?"
            "Yeah."
            Jason stood up and walked up to the landing. "Cool. I'm Jason."
            "Hi, Jason, I'm Louise."
*****
            Reese Taylor had been staring at the same email on her computer screen for the last ten minutes. Jim McNutt, the CEO of CryoGenerous, had blazed in and gone straight for Dr. Radkin's office. They'd been in there for the last three hours. Reese made excuses to herself to go to the supply closet just so she could pass by Dr. Radkin's office. When she got close to his door, she slowed her steps, hoping to hear something that would explain Mr. McNutt's surprise visit. After doing this two or three times, and discovering no new information, her nervousness began weaving a psychological cocoon around her body that tightened by the minute, cutting off her circulation and quickening her heartbeat. Now, her heartbeat thudded loudly, barely overshadowing the increasingly loud tick of the clock in the patient lobby. Tick, tick, tick. Her heart kept time with and was as audible as the clock. Then Mr. McNutt's shouts interrupted the in-synch rhythm, causing her heartbeat to thud against her eardrums, blocking all sound from the clock.
            The shrill sound of the telephone interrupted Reese's unblinking stare at her computer screen as well as the relentless thumping heartbeat in her ears. She nearly jumped out of her seat. Wiping the sweat from her brow, she answered the phone. "Hello, CryoGenerous, this is Reese. How may I help you?" Her voice sounded overly perky.
            "We need lunch. Be a doll and order something from East Side."
            It took a moment for Reese to comprehend that it was Dr. Radkin on the phone. "Um, uh, yes, sir. What would you and Mr. McNutt like to order?"
            "We don't know. Print out some menus from their website and bring them in."
            "Certainly, Rich, uh, Dr. Radkin."
            "Oh, and Reese, bring in a pot of coffee, too."
            "Absolutely."
            Reese hung up the phone and stared at her screen for a moment before habit and instinct jolted her out of her catatonic state, causing her to jump out of her chair and head to the break room.
                                                            *****
            Jason stood on the landing of the apartment building awestruck by his potential luck. He laughed as he reached into his pants to withdraw the picture from his wallet, and then stopped. "Louise, you wouldn't happen to, well, this is sort of—"
            "Just spit it out, Jason."
            "Are you Sheila's girlfriend?"
            Louise smiled awkwardly. "Y-eah? Do you know Sheila?"
            "Well, this is where it gets complicated."
            "Okay?"
            Jason paused, wondering if his reply should be humorous, serious or pathetic.
            "I'm listening."
            He decided to try sincere. "So, all things considered, I'm a fairly normal guy. I work a job I hate. I get drunk with my friends and find peace in the small things in life, in the uncomplicated social interactions I have with a select, close group of friends, whom I cherish and love as family.
            "I'm all for a woman's right to choose and all other civil liberties that are in line with that idea. I try to stay out of the way of people and expect similar treatment from others. I love all creatures and do my best to minimize my own part in their destruction. That being said, when a potentially destructive point possibly infringes upon my own life, I reluctantly take the reigns, so to speak, and try to come to a reasonable and logical means of resolving the disproportionate balance of power, always preferring, sadly, for the balance to be in my possession, it being my life and all." Jason paused when he noticed Louise's stature become more rigid and uncomfortable.
            "Just cut to the chase," she said.
            "I have never had any desire to create life in this world. I can go off on several tangents explaining this belief—"
"Please don't"
"Okay, well…long story short, well, shorter, regardless of my belief, I became worried about my own personal legacy, biologically speaking, and my ability to perform should my own philosophy turn. Because of this I took a drastic step and, for my own personal purposes, froze my DNA."
"What does this have to do with Shelia?"
            "Before I get to that point, I'd just like to say that I'm sharing all of this personal information because I find you to be both a compassionate and understanding individual. And since I've chosen to be honest with you, I'd be amiss, if I didn't admit it was for my own selfishness." He took a deep breath. "Your original question was if I knew Sheila."
            Louise stared beyond Jason into the space that resided only in her mind. "But you don't."
            "Not exactly. But you both might grow to know me more than you'd care to know. Because based on the limited knowledge I have, there is at least a one in three chance that she is carrying my baby."
                                                                        *****
Reese stood quietly outside Dr. Radkin's door and eavesdropped on the men's conversation.
            "All I'm saying, Richie, is the leak had to come from your office."
            "I'm trying to tell you, Jimmy, there's no way it has. Again, the only two people in this office that know what's going on are myself and Reese. And I admit, it's my mistake that she found out, but you saw her. She's a fucking mouse. There's no way in hell she would say anything to anyone, assuming she's smart enough to figure it out in the first place."
            "Other than you, she's the only one who's had any contact with Jason Purdue."
            Reese wiped the perspiration from her forehead with the back of her hand then did the best to slow the thumping in her chest before quietly knocking on the door.
            "Come in."
            Reese entered Radkin's office and set the carafe of coffee on his desk. Although she avoided eye contact, she felt Jim's suspicious eyes violate her and in a moment of paranoia, she was convinced he could detect her accelerated pulse when she handed him his lunch menu. She handed the second menu to Radkin then said, "I'll be right back with some cups, creamer and sugar."
            She closed the door behind her then paused and listened before continuing to the break room.
            "She seem nervous to you?" Jim asked.
            "Jesus, Jimmy, she always seems nervous to me."
                                                            *****
            "So what is it exactly that you want?" Louise asked.
            "I just."
            "You know, I don't even want to know." Louise turned away from Jason, unlocked the front door and picked up her grocery bags. "Well, are you just going to stand there like an asshole, or are you coming inside?"
            "Oh, yeah. Thanks," Jason said and followed Louise inside and upstairs.
            Jason stood by the entrance and peeked around the modest but nice apartment. He liked that it was clean but not sterile. It looked like it was lived in. He felt awkward and was unsure of what to do with himself. Louise was in the kitchen putting away the groceries.
            "Sheila's not here but should be soon."
            "Oh, okay." Jason decided to walk into the kitchen but stopped in the doorway between the kitchen and the dining room. She began putting away the groceries.
            "Want something to drink?" She opened a cupboard, pulled down a glass and poured bourbon into it.
            "Um, I don't—"
            "Look, I'm not going to hate you for having a drink. Christ knows I need one. So do you want one or not?"
            "Yes, please."
            Louise retrieved another glass and poured a second glass of bourbon. She led him back out to the dining room. The two sat down and sipped from their glasses in awkward silence.
            Louise broke through the quiet. "CryoGenerous said that the donations were anonymous."
            "Yeah, about that…"
            "Sorry, don't want to hear it." Louise took her glass into the living room and sat down on the couch. "It's not that I don't want to hear it, it's just not my place to ask."
            Jason walked into the living room. "No, I definitely think it's your place to ask."
            Louise stared at the carpet. "To be honest," she looked at Jason, "I don't much care what you think." She set her drink down on the coffee table and ran her hands through her short hair. "Look, I'm sorry."
            "No need to apologize."
            "It's just Sheila and I have been wanting this for so long, and the last seven months have been too good to be true. Just feels like it's all finally coming back to bite us in the tit."
            Jason moved closer. "Look, I'm sorry for fucking things up."
            "Are you? Are you really?"
            Jason stared at the floor. "Well, I am now."
            "Look, we probably shouldn't continue this conversation until Shells gets here."
                                                                        *****
Reese gave her money to the cashier at the drive-thru window and, in return, received her ThunderCloud California Club sub. As soon as she'd placed the lunch order for Dr. Radkin and Mr. McNutt, she had fled the office. She knew it would be more than the thirty minutes they had quoted her on the phone for the order to be ready, but she had to get out of there.
            The tension between her moral values and her work ethic threatened to rip her apart. She didn't feel any actual loyalty to CryoGenerous, nor did she feel any loyalty to Jason Purdue, but she believed both in hard work and in leading an honest life. It appeared she was at a crossroads, and even though she had already pursued one path, it didn't mean that the second one became invisible.
            She drove to East Side Café and waited for her bosses' order. She was hungry but felt it inappropriate to eat her ThunderCloud sub while waiting. Her stomach growled; she groaned.
                                                                        *****
            Sheila was a breath of fresh air. She absorbed all strife, turned it and transfused it into pure oxygen. Her glow was not reserved to the baby carried within her womb. She transcended sexuality, transitioned through sensuality, and progressed to heartwarming ma donna. The guilt Jason felt transcended all the proprietary rights he had to his assumed swimmers and even to his manhood.
            "I'm so glad you are here," Sheila exclaimed. She took labored steps over to Jason and embraced him long and hard.  Louise stood up unsure of what to do with herself. Jason looked at her shocked expression through Sheila's strong hug.
            She released Jason. "Wow, that's not quite the greeting I had expected."
            Sheila hugged and kissed Louise and for a brief moment, looked directly into her eyes and smiled. Then she turned back to Jason and said, "Well, Jason, you'll find that I'm full of surprises."
            "That's not all you're full of," Jason said, gesturing to her pregnant belly.
            She rubbed her belly. "You are absolutely correct. And we can talk all about it over dinner."
            Jason looked over at Louise and felt uneasy. "I'm not sure that a meal is such a good idea."
            "Of course it is. I'm starving."
            "Yeah, but…"
            "Look, it's supper time and we're all here. Plus, this will give Lou someone to have a few more bourbons with. Being pregnant, sometimes I can be a bit of a bitch about the booze. Momma can't have it, well, neither can momma."
            "It just seems, I don't know, inappropriate for me to invite myself to dinner."
            "One, there's nothing inappropriate about it, and two, you didn't invite yourself."
            Louise said, "She's right. You should stay."
            "Well, alright."
            "Great, I'll open a bottle of wine," Louise said.
            "She's been dying to say that for the last six months," Sheila said.
                                                                        *****
Reese chewed and stared at an invisible spot on the wall in the waiting room opposite her desk. She swallowed, and then took another bite from her sandwich. Mechanical, it was all mechanical; she went through the motions: Bite, chew, swallow. Bite, chew, swallow. Her food had no flavor, her thoughts no weight. They just blew through her head as thin as smoke. Bite, chew, swallow, repeating, until there was nothing left to bite.
            She balled up the sandwich wrapper and threw it in the wastebasket under her desk—just another mechanical motion. There were several new emails in her inbox but she didn't care. Instead, she continued to stare at that invisible spot on the wall. A phrase began to form in her head. CryoGenerous doesn't care about me. CryoGenerous doesn't care about anyone. Once the phrase began it continued, over and over again:  CryoGenerous doesn't care about me. CryoGenerous doesn't care about anyone. CryoGenerous doesn't care about me. CryoGenerous doesn't care about anyone. Eventually the phrase shortened: Doesn't care. Doesn't care. Doesn't care.
            Reese's body tensed and a lump developed in her throat, but she continued to stare at that invisible spot on the wall. Doesn't care, doesn't care, doesn't care.
                                                                        *****
            "So that's what you really think?" Sheila laughed.
            "Yes," Jason responded.
            "So, essentially, you're saying that love doesn't exist," Louise said.
            Jason swallowed his pasta. "No, no. Love exists, both platonic and romantic. It's just that platonic love has a higher percent chance of surviving. I mean, think about it; really think about it. Love, no matter how you cut it, is the same, all of the same symptoms and actions. You love someone, you're there for them, no matter what. Someone you love makes a mistake, you forgive them. We all need people to lean on in life. We're communal creatures, but in today's modern age, we can deny our biological urges to form romantic bonds, deny those chemicals that scream, 'Fuck her!'"
            "I don't know. I rather like fucking her," Louise said with a smile as she glanced at Sheila.
            "And you should if you want to. I'm just saying that we don't need to, and it's those exact entanglements in romantic love that sully what love is really about."
            "And what is that?" asked Shelia.
            "Forming lasting bonds. Bonds that actually stand the test of time. It creates a family, and today, a family doesn't have to be dictated by biology. Family can be a choice. You can surround yourself with individuals who share the same interests and care about who you are and what you want, ties that aren't there simply because you share the same blood."
            "Well, we certainly agree with you on that. I mean, we're evidence of that," Sheila said, "but I think you're leaving out some important points."
            "I'm listening."
            "Without romantic love the traditional family unit dies."
            "Never thought I'd hear a lesbian talk about the traditional family unit."
            "Well, yes, mine and Louise's family unit isn't traditional by this country's standards, but it is by your standards."
            "And what standards are those?" Jason laughed.
            "Two parents and children. Children are your missing link. Without them we wouldn't have a society; the human race would die."
            "First off, the human race wouldn't die. We have an overpopulation problem, and I think the fact that more civilized countries have a lower birth rate is the perfect example of what I'm talking about. Second, people aren't going to develop my philosophy in droves. Babies will be born. Not to mention, we have situations like yours and Louise's. Even in my perfect world, people will continue to want children. But as the two of you have proven, there needn't be a biological conclusion to the story."
            "So you just assume I would have a baby without Louise? Is that what is broken in this equation? Not that I'm having a baby, but that I'm having a baby with another woman?"
            "Hey, woman, man, farm animal—makes no difference to me. It's just that you feel the need to have another person along for the ride."
            "Oh, what, so you're judging us now?" Louise exclaimed.
            "No, not judging."
            "It's cool, Lou," Sheila said.
            "Look, I'm down with whatever anyone wants to do. I don't pass judgment. I'm simply sharing my philosophy. And that philosophy is that romantic love rarely works out, regardless of its form."
            "So you think because we're gay, we don't deserve this?" asked Louise.
            "No—"
            "No, honey, that's not what it's about. It's seems clear Jason has no bias towards specific romantic relationships. He just hates them altogether, regardless of the variety."
            Jason swallowed his wine. "Yes!"
            "He's just ignorant to romantic love." Sheila said.
            "Uh, no," Jason responded.
            "Well, of course you are."
            "Ignorance implies that I lack knowledge on the subject matter."
            "Yes, I know."
            "Hey, there are some things I might be ignorant of. Water polo, for instance, or whether your engine not starting is due to the alternator or the battery being dead. Whether or not meteorologists are actual scientists, but love, well, we've all experienced that, romantic and otherwise, whether we realize it or not."
            "Clearly, you've never actually realized it," Louise said.
            Jason stared at his half empty plate of salmon, green beans and rice. "I don't think so, but who knows? Maybe you're right." Jason swallowed the last of his wine then looked up at the women around the table. "Sadly, as much fun as it's been, we're not here to discuss my philosophies on love."
            Louise stared at her plate and Sheila's happy expression changed. "Jason, I should've told you this from the beginning. But I really…you know it doesn't matter why. The simple answer that you're looking for is…this is not your baby."
                                                                        *****
The lump in Reese's throat thickened as she knocked on Radkin's door.
            "Come in."
            As she opened the door, all of the blood rushed from her head. She felt like she would faint. Instead, she steadied herself against the doorframe.
            "Good timing. Just finished our meals," Radkin said.
            With her heart sounding in her ears, Reese collected the trash, then stood by the door, staring at the parking lot outside of Radkin's window.
            "That's all. You can leave," Radkin said.
            Reese focused on her Honda Civic in the parking lot. The lump grew bigger.
            "Reese, I said that is all."
            Her eyes shifted to Mr. McNutt then to Dr. Radkin.
            "Reese, is there something you want to say?" Radkin asked.
                                                                        *****
"You what?" Louise angrily asked.
            "You heard me. I had a prenatal DNA test done."
            "I thought it was just a routine exam," Louise said. "Is that why you insisted I didn't go?"
            "Firstly, I didn't insist. Secondly—"
            "No, secondly. You just didn't want me there."
            Jason leaned back in his chair, uncertain how to react. On one note, he wanted, no needed to hear Sheila's information, but on the other, he had no desire to interfere with the affairs of a couple that were strangers to him mere hours ago.
            "Oh, come on, Lou. You know that's not the truth, not entirely."
            "Not, entirely. So, it is the truth."
            "We spent months hand picking our donor. When CryoGenerous phoned and explained that we might not have gotten who we wanted, I didn't want to worry you until I knew for sure."
            "Even after the alternative showed up on our fucking doorstep?" Louise gestured to Jason.
            "Not fair. This isn't Jason's fault."
            Jason stood up. "Maybe I should—"
            "Sit the hell back down!" Louise screamed.
Jason complied.
            "Don't yell at him because you're mad at me," Sheila said as calmly as possible. "Besides, it's not his anyway."
            "Sperm or no sperm, it never was and never will be. This baby is ours."
            "Exactly. Which is why you need to calm down." Sheila stood up and walked over to Louise. "Look, baby, I didn't want to worry you about anything until anything became something to worry about." She bent down and kissed Louise on the forehead. She held her head and focused her eyes into Louise's. "Look at me, Lou. Please, baby, look at me." Louise focused her shifting and watering eyes onto Sheila. "This is and will always be our baby, no one else's. I was just trying to protect you." Sheila's eyes glanced at the floor then darted back to meet Louise's.
            "No, I know I was wrong. I love you."
Sheila lightly kissed Louise and the kiss turned into an embrace.
            Any comfort Jason gained in the last couple of hours evaporated as he witnessed the touching and personal moment between the couple. He adverted his eyes, taking some bites of food, and swallows from his water glass, but there was nothing he could do to disappear from the dinner table.
            Sheila returned to her seat but the silence still hung. Jason cleared his throat and grabbed the pitcher of water.
            "You want another drink?" Louise asked.
            "The wine bottle's empty."
            "I'm not talking about wine."
            Jason looked at the wry smile on Sheila's face. "Oh, god, yes!"
The threesome burst into laughter.
            "I'll just bring the bottle," Louise said. She stood up from the table and walked into the kitchen.
            "Are you okay?" Sheila asked.
            "Yeah, but how do you know it's not, well, not my babe—not my sper—not my donation?"
            Sheila looked at Jason across the dinner table and smiled. Her smile was not filled with unease or confusion, but instead was filled with understanding and warmth. "CryoGenerous called me and told me that there might have been a mix up with my donor and asked that I come in to get a prenatal DNA test." Sheila sipped from her water glass. "By this point I was all in so it didn't really matter to me who the donor was, but they seemed concerned so I went to the doctor. They determined that my baby's DNA was, in fact, from the donor that Louise and I had selected."
            "So, you're sure that it isn't mine?"
            "Positive."
            "So, why didn't you just tell me as soon as you walked in the door?"
            Sheila smiled, massaging her stomach. "Because I could tell that you needed more than a simple answer."
            Jason began to speak but stopped once Louise walked into the dining room. She held a bottle of Maker's Mark and a cheesecake. She filled Jason's empty glass and slapped a slice of cake onto Sheila's plate. "And that's what romantic love is all about," Sheila said.
            "What?" Jason asked. "Being served first?"
            "Partially."
            "And the other part?" Jason asked.
            "Wanting to serve her first." Louise smiled and followed with a peck on Sheila's cheek.
                                                                        *****
            Mr. McNutt and Dr. Radkin stared at Reese with a curious gaze. The lump in her throat had surpassed the size of a golf ball and was working its way to the size of a tennis ball. If she didn't say something soon, she was going to choke.
            "Reese, what is it?" Radkin asked.
            Reese stood there, choking.
            "Good god, girl. Just spit it out," McNutt said.
            Her cheeks began to burn but her throat was loosening. The first words came out in an odd staccato. "I—um—don't—uh—'preciate the way I've been treated here."
            "I'm not sure that I under—"
            "Shhh! It's my turn to talk. I am a receptionist, not your personal doormat. I'm not your secretary or your lab assistant or your, or your," she stammered, "your bitch!"
            McNutt smiled while Radkin looked on wide-eyed and mouth agape.
            "You need to think about how you treat people in this world, not just me. You are horrible pigs and I…I quit." Reese threw the trash in her hands on the floor and stormed out of the office.
                                                                        *****
Sheila, Louise and Jason had retired to the living room, Louise and Jason with the bourbon bottle, Sheila with a cup of green tea. Jason sat down on the loveseat opposite of the couch, a coffee table between the two. Louise had taken the spot opposite Jason on the couch, and Sheila had positioned herself next to Jason.
            "And you're sure?" Jason asked.
            "Yes," Sheila responded.
            "You know they fucked up once. Do you really trust them not to lie to you now?"
            "Why would they? If they wanted to lie, CryoGenerous would've never approached me about the DNA test in the first place. Plus, it was my OB who personally administered the test and I trust her."
            "Yeah, but they could've just given your doctor false DNA results."
            "And that could have blown up in their faces," Louise said. "I mean, how would they know?"
            "Shit, I guess you're right. I just don't trust them."
            "You can touch it if you want," Sheila said.
            "Touch what?" Jason asked.
            "My belly. You've been staring at it for the past five minutes."
            Jason blushed. "No, I haven't."
            "Yes, you have and it's okay. It won't bite. Sometimes he kicks."
            "It's a boy?"
            "Yep, come on. Take a feel."
            "Uh, no, don't think I can."
            "Yes, you can," Sheila said with a smile. She took his empty hand and placed it on her stomach. "See, it's not so bad."
            Jason smiled. He felt a bit awkward, yet strangely exhilarated.
            "Okay, that's enough," Sheila said.
            Jason yanked his hand back. "Oh, I'm sorry."
            Sheila and Louise both laughed. "Just kidding." She put his hand back on her belly.
            "You guys are funny," Jason said with a smile.
                                                            ***** 
Sheila went to bed but Louise and Jason stayed up chatting and sharing the bottle. Since dinner, hours of conversation, and several glasses of wine and bourbon, Jason had loosened up. "You guys are cute and all, but it hasn't exactly met the standards of my lesbian fantasy," Jason joked.
            Louise leaned forward and gave Jason a seductive look. "Shells didn't go to sleep, she's just preparing the strap-on. Tell me, Jason, have you ever been with a pregnant woman?"
            Jason nearly spit out his bourbon. "Um, can't say that I have."
            Louise stood up, still looking intently at Jason. "Well, prepare to have your world rocked."
            Jason stood up and backed out of the living room.
            Louise burst out laughing. "Oh, wow, you really are just a scared little girl deep down." Louise quipped.
            "Yes, yes, I am." Jason sat back down. "And you're a lot more fun drunk."
            "Yeah, and you're a lot more fun when I know you're not trying to steal my unborn child."
            "Fair enough."
            Louise laughed. "Did you really think I was serious?"
            Jason blushed. "Honestly?"
            "Please."
            "I blacked out after you said strap-on."
            The two of them laughed. Louise grabbed the bottle and tipped it into Jason's empty glass.
"No, no. I'm done. I really should be leaving."
            Louise continued pouring. "You're not leaving."
            "My, my, Ms. Louise, are you trying to get me drunk?"
            "No, you're already drunk, but I'm not drunk enough and it's fun to have a buddy who drinks the bourbon neat. Plus, it's getting late and you shouldn't be driving, just stay here."
            "I don't know."
            "Stop being an ass. Sheila already inflated the air mattress in the baby's room. You're staying and that's final."
            Jason grabbed his glass. "Okay. So, we're just gonna get tanked?"
            "Pretty much."
            "You know, you're going to make a fine parent," Jason joked.
            "I'm not a parent yet." The two clinked glasses.